Most of the news placed in front of us has gone to the dogs, so why not read some dog gone good news for a change! Man's best friend is winning awards, stealing hearts and showing us all just how loyal, faithful, hard working and heart warming they can be.
"Everyone thinks they have the best dog. And none of them are wrong."
–W.R. Purche
Meet Bindi, Farm Dog of the Year!
Herding cows and helping out, Bindi the Australian Shepherd wonder dog has been named National Farm Dog of the Year by the American Farm Bureau. Her owner and New York Farm Bureau member Sonja Galley, says Bindi's agility, intelligence and loyalty makes her the perfect canine companion on her family's 60 cow dairy farm.
"Bindi moves the dairy cattle out to pasture and back to the barn, rotates them around the pen, and can separate an individual cow from the herd" and is an essential part of her dairy farm's daily operations.—Sonja Galley, Birmingham Homepage
Galley has 5 woking dogs on her farm but decided to nominate Bindi because of an incident where a cow had cornered her and knocked her over in a pan. She called out to her furry friend and Bindi leaped into action steering the cow away from Galley.
Ever wonder, "Is my dog happy? Sad? Getting enough exercise?" Petpuls Lab wondered that too, so they created an AI-powered dog collar to detect dog's emotions through barks.
They gathered more than 10,000 sample barks from more than 50 breeds of dogs and won the CES Innovation Award 2021 for their proprietary technology. The Petpuls smart collar pairs with a smartphone app, tracks and displays your dogs emotions and physical activity.
'"This device gives a dog a voice so that humans can understand,' Andrew Gil, director of global marketing at Petpuls Lab, told Reuters."
Faithful Dog Waits Outside Hospital for Sick Owner
Cemal Senturk needed to go to the hospital. His loyal pet, Boncuk, escaped from their apartment and followed the ambulance to the nearby hospital where she waited…each day…for 6 days.
Senturk's family were made aware of Boncuk's whereabouts and she was brought back home. "But after Boncuk was brought back home, she managed to escape again — and returned to the hospital each day, Murat Ercan, the hospital's international patient center director, told CNN." Hospital staff quickly grew very fond of Boncuk. They fed and took care of Senturk's canine companion while she waited each and every day by the hospital entrance for her beloved owner to be discharged.
Watch the moment they are reunited… so much happiness.
Your dog may have a favorite paw…just like we favor a left or right hand. Find your dog's preferred paw by giving them their favorite toy or playing an interactive game with them. Do they use one paw more than the other for their first reach? If so, you're pet ha a preferred paw!
Happy Dogs. Happy Planet.
Vending Machine Trades Recycled Bottles For Dog Food
The socially conscience company, Pugedon, is helping stray dogs and the environment with its simple street vending machine. Insert a plastic bottle for recycling and it dispenses food and water for stray dogs on the streets of Istanbul. Best of all, it doesn't cost the city a cent because the recycled bottles pay for the kibble. Win!
Want to make your own dog food dispenser?
Try this simple DIY project at home using cardboard, paper, glue and a plastic container. Your furry friends will love you for it.
A blind man and his German Shepherd guide dog hiked the Appalachian Trail for 8 months in 1990. Bill Irwin did not use maps or a compass, he relied solely on his faithful dog, Orient.
"Mr. Irwin was feted as an inspiration to hikers and disabled people when, on Nov. 21, 1990, he became the first blind man to traverse the Appalachian Trail, which stretches more than 2,100 miles, from Georgia to Maine."—Washington Post
16 Puppies.
Yep.
It's As Fun & Cute As It Sounds!
"A well trained dog will make no attempt to share your lunch. He will just make you feel so guilty that you cannot enjoy it."
– Helen Thomson
Extra Happy Headlines
Meet Seattle's bus riding dog, a two-legged 'bunny' and tap your toes along with these reworked Hollywood classics.
Without missing a beat, Jean has continued to carry on the Trebeks' mission of help and support of such amazing, pivotal programs.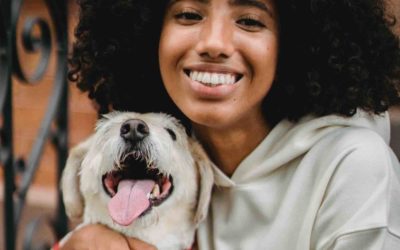 Part 1 of Kathlene McGovern's 2 part series on the best and safest ways to travel with your furry friends!
Dove Rose give us ideas on how to stay curious! Keep it Fresh in the Kitchen, on the Drive and in your Life. New ideas to keep our mind alive!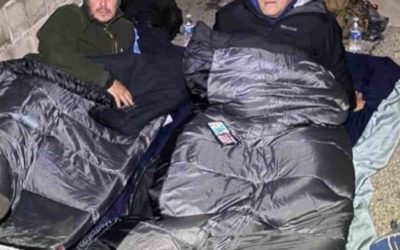 Ken Craft of Hope of the Valley lives unhoused on the streets of the San Fernando Valley for 100 hours and shares the challenges, insights and struggles he faced on this journey.