Kathlene McGovern shares Part 1 of this 2 part series on how to best travel with your pets.
February-March. Just long enough after the new year that the wind in the sails of our January goals has petered out, and too long before the daffodils and cherry blossoms will appear to cheer us up. Tis the season for cabin fever, the irritability and ennui resulting from a long winter spent indoors.  In short, it feels like the perfect time to get a move on.
While international travel is still a mixed bag of testing, surges, and closures, likely to throw a monkey wrench into your time abroad, taking trips in the contiguous states is fairly straightforward, dare we say, easy.  Which is why we here at insidewink are making plans to hit the road. And who better to accompany us than our best friends? The furry kind. That's why we've gathered up some prime tips for when you hit the road with your animal BFFs…
Find the Perfect Spot to Spend Time with Spot… and Fluffy
(Or in my case, Porkchop and Daisy)
From North Carolina to New Mexico, Wisconsin to Florida, our nation is packed with perfect places to plan a getaway with your pet. Whether cruising along the Milwaukee River or hiking through Colorado's Vasquez Peak Wilderness Park, our friends at Tripadvisor assure us that there are plenty of destinations across the country with activities tailored to please you and your animal. 
While many of the attractions they list: frolicking in Florida's Fort Myers, specifically on Bonita Beach Dog Park; perusing Austin's dog friendly shopping district, The Domain; or noshing at Norm's Eatery & Ale House in Seattle (which features a separate menu for pups,) are more dog-focused, there are plenty places to hang out with your cat like hiking on pet-friendly trails or cocktailing with your kitty at the complimentary, pet-friendly wine receptions held at more than 60 Kimpton properties, where after you've had your tipple, you can treat their royal cathood to an in-room pet massage.  
Getting There: Our Furry Friends on Planes, Trains & Automobiles…
If you're flying, each airline has its own specifics when it comes to travelling with your pet.
For instance, American Airlines considers your animal (in its appropriately sized hard or soft-sided kennel) your carry-on item and charges $125 for allowing the animal to fly in the cabin. The maximum size of the kennel (meant to be stowed – like any carry-on – under the seat in front of you) varies because the size of that space varies according to the type of plane. While American Airlines does recognize service animals and allows them to fly in cabin without being in a carrier, it does not recognize emotional support animals and so they must abide by the size and kennel rules applied to any regular pet.
To sort out any confusion you might have about the differences between service and emotional support animals, the American Kennel Club has written a comprehensive article that clarifies the distinctions and differences. Please note that while people may choose to fly their larger pets in cargo, it is not something we would recommend. Both Smithsonian Magazine and Condé Nast Traveler have written very thorough and well-researched articles on the dangers of flying pets in the cargo holds of planes. 
If you love to watch the scenery as you travel a train trip may be just the ticket. There are many scenic train trips throughout the U.S. you can take with your furry BFF.
On the west coast there is the Oregon Coast Scenic Railroad that offers rides with breathtaking views of Tillamook Bay and the surrounds as well as California's Roaring Camp Railroads which offers open car trips that allow for spectacular views throughout the Redwood Forest.
On the east coast rail companies like the Lehigh Gorge Scenic Railroad offer trips that boast magnificent vistas such as Pennsylvania's Lehigh River and the state park of the same name, as well as seasonal excursions on New Hampshire's Conway Scenic Railroad which allow you to glimpse the beauty of this state's changing landscape all year round. Please note that all these railways have differing pet policies ranging from leashes and carriers to pet-specific cars and even a muzzle policy for larger breeds of dogs. 
If your endgame is simply to get from point A to point B via train, Amtrak and other large railways post their specific pet policies that include, but are not limited to: weight restrictions, carrier size and may limit pets' travel on the basis of the length of the train trip itself.
A common sight on the road is happy head of a dog hanging out the window, tongue lolling, a look of pure joy on its face as the wind whips through its ears.
While we've all opened the passenger door and told our pups to jump in and have a seat, Pet WebMD has a list of 10 specific safety measures recommended to keep pets as safe as possible when they're in the role of our ride or dies (including all heads staying inside cars.)
Besides ensuring that your pet is restrained (sorry, Lulu and Teddy,) the experts also suggest you slowly acclimate your dog or cat to riding in the car by taking shorter trips – as some animals (especially cats,) can suffer longer-term health challenges brought on by the stress of riding in a car for an extended period of time before becoming acclimated. And finally make sure your pet is chipped in the unlikely but hair-raising event the two of you are separated. 
Stay tuned for Part 2 of Tips for Hittin' the Road with Your Furry Friends which will include the best pet-friendly hotels according to budget, the best travel carriers (including hiking backpacks for cats and small dogs) as well as breed specific tips, tricks, and precautions to keep your pets happy, healthy, and begging to go on your next vacation.
Kathlene Mc Govern
Kathlene Mc Govern is a graduate of UCLA with a BA in English/Creative Writing. She is the winner of the David Wong Louie Creative Writing prize, has served as the fiction editor for PCC's Inscape Literary Magazine and worked as a staff writer for Blindfold Magazine, a print mag that combined activism with pop culture and fashion where she wrote features on several actors and directors including Darryl Hannah and Aaron Paul and Casey Cooper Johnson.
When she's not writing, Kathlene teaches a performance workshop for dancers around the country called Acting Dynamics for Dancers. The workshop teaches dancers to create story and connect emotionally to choreography, allowing for more dynamic performances.
Dove Rose give us ideas on how to stay curious! Keep it Fresh in the Kitchen, on the Drive and in your Life. New ideas to keep our mind alive!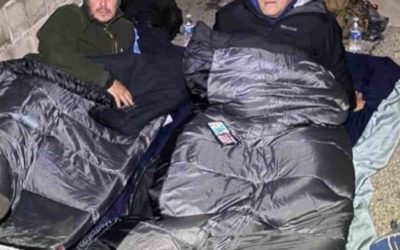 Ken Craft of Hope of the Valley lives unhoused on the streets of the San Fernando Valley for 100 hours and shares the challenges, insights and struggles he faced on this journey.
Jean shares a recipe for an absolutely delicious banana cream pie. It's smooth and tasty, just perfect for an after dinner treat!