What Makes Someone a True Hero?
Without expectation or reward, a true hero is someone who puts others before themselves. Someone whose concern for others in need outweighs their own personal risk. We have seen so many people step up, lend a hand and reach out. Ordinary people that are putting themselves in harms way for the greater good of their community.
Saying Thank You to Our Everyday Heroes
In an effort to share the good things that are happening around us, we asked our writers to tell us about their everyday heroes. 
People who have helped, served and gone above & beyond during the pandemic.
Emily Trebek Delivers Dinners to Hospital Staff
My true hero is my beautiful daughter, Emily Trebek….she's 26 years old, lives in Sherman Oaks and has an interior design company with her business partner, Sam Schwarze, called E&S Interiors. One of the qualities that I admire about Emily is that she takes the initiative to act on her "good" ideas.
A few weeks ago she was scrolling through Instagram when she saw someone post a photo of food they were dropping off to a hospital. She thought it was such a great idea! Like most people, she's been staying at home these past few weeks and felt inspired by what she read…she thought this was something she could do too.
Emily contacted Cedars-Sinai Medical Center and found out what day and how many sandwiches she would need to give a nice dinner to those doing so much at Cedar's Hospital in Los Angeles. Emily said, "Just knowing that the hospital staff had a nice meal waiting for them that night makes me feel really happy"…the quote, 'Happiness is found in helping others' is definitely true for me."
RELATED: Alex Trebek's Kids Share a Gift of Memories with Dad for Father's Day
Trish Geiger's Everyday Hero
Macha French Making & Donating Masks to Help Keep People Safe
Macha French is helping the people in the trenches stay safe. She's making cloth masks for her local hospital. She uses good quality, used sheets. It takes her between 15 to 20 hours to make 64 masks. She does it assembly style. She tears a sheet into strips, and then cuts those into masks and ties. It would go a lot faster if she used elastic for ties, but elastic is hard to find as many sewists are making masks. Also, Macha says that elastic doesn't stand up to sterilization. So she takes the slower route with ties. She also leaves the slit on the inside of the mask for a third, non-woven layer, like coffee filters. This makes it more effective. I asked her if she is selling the masks, she said, "No, I'm not selling-This is strictly volunteer; I'm lucky- I have my paycheck, so this is what I can do to help."
RELATED: Iron Man's Armor Creator & His Team Making & Delivering PPE
Alison Martin's True Hero
Mailman Julian Diaz Delivering Cards & Letters Every Day
There have been so many people who have touched my heart and whom I truly appreciate… from the hospital workers, to the police who still patrol our neighborhood, to the fireman around the corner, to the Vons cashiers, to the chefs at our restaurants nearby, so many who have kept things going. Our mailman, Julian, comes everyday. We look forward to it! We have suddenly received letters from friends all over the country. Thank you Julian for keeping this lifeline going. You are my hero!
This photo was taken before LA County's mask rules were put into place. 
RELATED: Saying "You Matter" Matters! Changing Lives One Card at a Time
M. Eileen Hickey's True Hero
Susan Hedlund is a Generous Angel
Neighbors are walking down the street 6-feet apart, making wide arcs for oncoming walkers. Cars crowd driveways in my southwest Portland neighborhood. Mail is scattered on the living room floor awaiting time to disinfect from possible spores. Check-in text messages and emails are flooding my devices. Toilet paper and personal protective equipment have become scarce resources. And I've joined the growing number of unemployed workers in Oregon.
"Stay home" signage is hung at park entrances and in shuttered store windows. Social distancing is 2020's new slogan. This is Coronavirus 2019 deeply impacting Oregonians in the year 2020.
As a licensed massage therapist who can no longer touch my clients (Oregon Governor Kate Brown's Executive Order 20-12 mandates this), I am also affected. Social distancing is physical distancing. At a time when my clients are the most stressed, I can't offer a harbor of peace. Yet, kindness and gratitude rise to the surface from the depths of fear and anxiety. The common denominator during this pandemic is not only collective action to slow the spread of the virus but authentic selflessness.
The owner of the building where I practice massage forgave my rent for a month. Several of my clients have mailed me checks to help keep me in business. One client texted, "I want to make sure your business survives this and would be happy to pay you in lieu of seeing you. I feel it is critical that I do what I can to support the people and businesses that make my life better."
And to my surprise – Susan Hedlund, LCSW and Director of Patient & Family Services at Oregon Health & Science University where I do in-patient oncology massage issued our team two substantial payments from anonymous funds. Susan (pictured here) also put together this video "Caring For Yourself and Caring for Others During a Disaster/Epidemic" which was distributed to a number of communities, locally and nationally, including the 27,000 students, faculty and staff at Portland State University.
These generous angels on earth are my everyday heroes. Kind gestures like these not only ease anxiety but help me find power in the pause and peace amidst the chaos. The power and peace comes with unwavering trust that no matter what, I will be cared for. And what I put in to my work comes back to me. It is my silent handshake with the universe. I have attracted the clients who reflect generosity and selflessness. For this reason alone, I could quit my practice tomorrow knowing I found success. I feel cherished and honored.
And once the state of emergency is lifted, I look forward to returning the favor and spoiling my everyday heroes.
RELATED: Tricia Patterson: Passionate and Spirited "Chick in a Chair"
Elin Hampton's Everyday Hero
Fed Ex Delivery-Person Shelley Bringing Necessities to Our Dorstep
The doorbell rings. You open your front door to see the large box your masked and gloved Fed Ex driver quickly dropped, before fleeing back to her truck, a safe distance away from your deadly germs. You don't take it personally.
To be fair, you never bothered to get her name and it might be awhile before you can chat. But, in the world of Covid-19, this has started out to be a great day. You got a package. It could be those antibacterial wipes you ordered (from China!) three weeks ago, or maybe the twelve boxes of graham crackers that you had to order to get one delivered. Either way, you hit the jackpot today. Something helpful, something that you ordered has arrived at your door.
Have we ever been so excited to see a FedEx truck? Until last month, the common dangers of driving one included being attacked by a dog, or cursed out by a cranky customer, but post-outbreak of Covid19, delivery drivers are vulnerable to so much more. In my opinion, their work ethic and courage shoots them to superhero status.
Shelley, my sister-in-law is one of those amazing people. She never fought in a war or saved a life in the operating room, but when I was I asked to think about someone who makes a difference in the world, she was at the top of my list. Aside from the volunteer work she's always done for a local animal shelter, aside from selflessly placing herself on a list to be an upcoming kidney donor, Shelley places herself in harm's way six days a week, so that people like you and me can receive those coveted spray cans of germicide and root cover-up.
I would order her a cape, but it would just give her one more thing to have to lug.
Jeanette Dubois' True Hero
Caregiver Margie Rouge Going Above and Beyond
My hero comes in the form of my sister Margie Rouge, the Director for Uncharted Shores Academy in Crescent City. After my dad died she and my oldest sister Ruth Cowan stepped up to care for my mom, who turns 93 this May.
As my mom's memory worsened, they found a great memory care center close to them so they could continue to watch over her and regularly visit while she received the help she needed. But with Covid-19, my mom's facility was put on lockdown, and Ruth, who is high risk, had to stay home and stay safe. Margie began to buy groceries and run errands for both my mom and Ruth, delivering things to their doors, while also setting up her entire school to go online and begin home learning.
And then the phone went out in my mom's ward, making it impossible for anyone to call or talk to her. For a week Margie tried a variety of methods to contact my mom directly but couldn't get through. Undeterred, Margie finally went over and stood outside their dining room window with a sign giving her cell number saying; "I want to talk to Marie Biggs, call me." The Recreational Director at SeaView Senior Center, Terri, saw it and immediately called. She set my mom up by the window with Terri's own cell phone so mom and Margie could talk, which they did for two hours. Since then Terri has set Margie and my mom up at the window to talk a couple of times, including for a Sunday "church" time where my mom read her Bible to my sister and then they prayed together.
So really, there are three heroes here: Margie, Ruth, and my mom's caregiver, Terri, who is working hard to make sure my mom and her companions stay safe and get the care they need. Oh, and there's my mom too… a hero who remains filled with faith and love even when the only way she can see her daughter is through a dining room window. Rather than complain or worry, she chooses to pray.
How about you? 
Who's your everyday hero?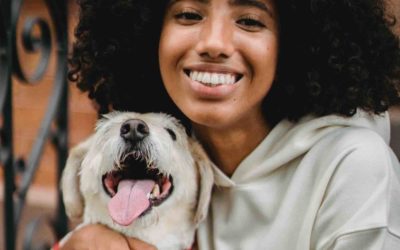 Part 1 of Kathlene McGovern's 2 part series on the best and safest ways to travel with your furry friends!
Dove Rose give us ideas on how to stay curious! Keep it Fresh in the Kitchen, on the Drive and in your Life. New ideas to keep our mind alive!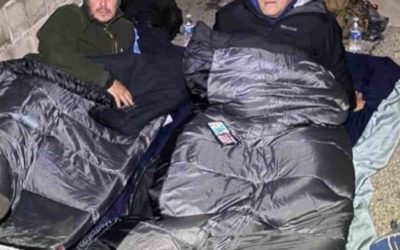 Ken Craft of Hope of the Valley lives unhoused on the streets of the San Fernando Valley for 100 hours and shares the challenges, insights and struggles he faced on this journey.