"Life is a balance of holding on and letting go." – Rumi
Alex and I had a home on Lake Nacimiento in Central California for close to 20 years.
This was our little "get away," where we were nurtured by Mother Nature herself… no internet, no cable, no malls, no movie theaters, no restaurants. We were entertained by the most glorious oak trees, deer, birds of all sorts, mice, the lake and great neighbors, who not only became our dear friends but also the lifeline for lake living to most of us who had vacation homes up there.
During its heyday, we would bring our children up to the lake on their school vacations.  As you can see from the photo, riding jet skis and four-wheelers were probably the highlight for our kids. Although we all enjoyed playing games and watching movies on DVD, our home was truly special because of the beautiful lake.
I recall waking early one morning, coffee in hand, walking outside and seeing someone water skiing on the pristine surface of the water while the boat towing him was blasting Annie Lennox and Al Greene's "Put a Little Love in your Heart".
I thought to myself, what a resounding song to hear first thing in the morning… not sure if late sleepers appreciated it, but I certainly did.
Time passed…
and unfortunately visiting our lake house took a backseat to the children's school schedule, friends, our aging parents, pets and other life commitments. My husband would get up there more often on his own – for maintenance and perhaps some much needed time alone  – and the two of us would try to go up a few weekends per year, but it wasn't all that frequent. This past year, we realized that our home was becoming more of an obligation than an inspiration, and that is was time for us to sell it.
Bittersweet is the perfect word to describe the feeling I have about the sale of our home. Letting go isn't always easy, however I have the fond memories that will always remain in my heart; all while knowing that another family will get the chance to create their own wonderful experiences, like we did.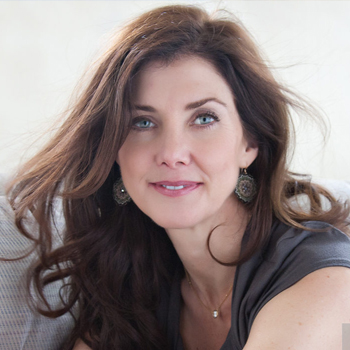 By JEAN TREBEK
Jean is a Professional Religious Science Practitioner, Reiki Master and Sound Healer. She grew up on Long Island, NY, and now lives in Los Angeles. She has two wonderful adult children, Matthew and Emily, with her beloved late husband, Alex.  Jean enjoys taking long walks, watching movies, and traveling. She is very grateful for her family, friends, Luna (the dog) and good coffee.
A heartfelt interview with one of the founders of The Waterbearers – a women-led organization that provides clean water to countries suffering from water vulnerability. Their work is full of kindness, hope and is changing the lives of many!
In her beautiful story, Kate Fuglei takes us to a small Italian town where she discovers a life lesson on enjoyment.
"I Have Been Buried Under Years Of Dust"... are the first words Emily Grodin used to express herself. Emily is on the autism spectrum and for years was unable to fully communicate. Her parents, Valerie and Tom, worked with many therapists and different modalities...