A Moist, Delicious Chocolate Treat!
Does anyone remember the Pillsbury Bake-Off Contest? Well, the winner of contest #17 in 1966 was Ella Rita Helfrich from Houston, Texas.
Cut to 22 years later when I first met Alex, his mother made this tunnel of fudge cake and told me it was Alex's ultimate favorite chocolate treat. Then I found out that this cake was the winner of the Pillsbury Bake-Off contest!
It's like a molten lave cake that is served cold, creating a delicious tunnel of fudge… But don't scrimp on the nuts or it won't be as good!  
Jean Trebek's Reliable Recipes|insidewink.com
INGREDIENTS:
1 1/2 cups sugar
3 sticks of butter, softened
6 eggs, room temperature
2 cups powdered sugar
2 cups all purpose-flour
3/4 cup unsweetened cocoa
2 cups chopped walnuts*
Glaze
3/4 cup powdered sugar
1/4 cup unsweetened cocoa
4 – 6 teaspoons milk
DIRECTIONS:
Heat oven to 350 degrees.
Grease and flour a 12-cup Bundt pan or 10 inch tube pan.
In a large bowl, combine sugar and butter.
Beat until light in color and fluffy about 3 – 4 minutes.
Add eggs one at a time, beating well after each addition.
Gradually add 2 cups of powdered sugar;  blend well.
By hand, stir in flour and remaining cake ingredients until well blended.
Spoon batter into greased and floured pan, spread evenly.
Bake for 50 – 55 minutes.
Cool upright in pan on wire rack for 1.5 hours.
Invert onto serving plate.  Cool completely.
In small bowl, combine all glaze ingredients, adding enough milk for desired drizzling consistency.
Spoon over top of cake, allowing some to run down the sides.
Store tightly covered.
*Tips!  
Nuts are essential for the success of this recipe.
Since this cake has a very soft filling, an ordinary doneness test cannot be used.
Accurate oven temperature and baking time are important.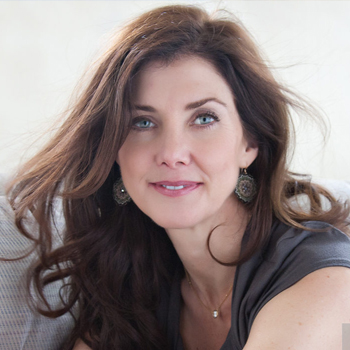 By JEAN TREBEK
Jean is a Professional Religious Science Practitioner, Reiki Master and Sound Healer. She grew up on Long Island, NY, and now lives in Los Angeles. She has two wonderful adult children, Matthew and Emily, with her beloved late husband, Alex.  Jean enjoys taking long walks, watching movies, and traveling. She is very grateful for her family, friends, Luna (the dog) and good coffee.
A heartfelt interview with one of the founders of The Waterbearers – a women-led organization that provides clean water to countries suffering from water vulnerability. Their work is full of kindness, hope and is changing the lives of many!
In her beautiful story, Kate Fuglei takes us to a small Italian town where she discovers a life lesson on enjoyment.
"I Have Been Buried Under Years Of Dust"... are the first words Emily Grodin used to express herself. Emily is on the autism spectrum and for years was unable to fully communicate. Her parents, Valerie and Tom, worked with many therapists and different modalities...