Who needs a pizza stone when you have a cast iron skillet!
This is a fun recipe to make with your whole family!
We love Pizza! I mean, who doesn't? I really enjoy cooking and baking, so this recipe has been great for me because I'm doing a little of both while making this fantatsic meal.
Making the dough can be lots of fun if you have younger children in your home. I find that children love the texture and the squishiness of the dough as you are kneading it.
With the toppings, of course you can add anything you like, but I really do love the taste of the brussel sprouts and the cheese… and I also love garlic! 
Have fun with this recipe!
Cast Iron Skillet Brussels Sprouts Pizza
INGREDIENTS:
The Crust
*NOTE: this recipe makes TWO doughs for skillet pizza
1 1/8 cups warm water
3 teaspoons active dry yeast
1 tablespoon honey
1 tablespoon olive oil
1 1/2 cups all-purpose flour
1 1/2 cups white whole wheat flour
1 teaspoon salt
The Toppings
*NOTE: these ingredients are for ONE pizza
1 shallot, sliced
2 garlic cloves, minced
1/2 pound brussels sprouts, stems removed and thinly sliced
1/4 teaspoon pepper
1/8 teaspoon salt
4 ounces provolone cheese, freshly grated
4 ounces fontina cheese, freshly grated
2 tablespoons finely grated parmesan cheese
DIRECTIONS:
Making theCrust
In a large bowl, combine water, yeast, honey and olive oil. Mix with a spoon, then let sit until foamy, about 10 minutes. Add in 2 1/2 cups flour and salt, stirring with a spoon until the dough comes together but it still sticky. Using your hands, form the dough into a ball and work in the additional 1/2 cup flour, kneading it on a floured surface for a few minutes. Rub the same bowl with olive oil then place the dough inside, turning to coat. Cover with a towel and place in a warm place to rise for about 1 1/2 hours.
After the dough has risen, punch it down and place it back on the floured surface. Sometimes I work in a few more sprinkles of flour if the dough is sticky. This amount of dough yielded 2 pizza crusts for my 12-inch cast iron skillet. If you're using an 8-inch, you may get 3 doughs, but you also may just want to stick with 2 thicker doughs. Divide the dough evenly in half (or thirds). Place one dough on a well-floured pizza peel and roll into a round about the size of your skillet.
Make the pizza + the cast iron skillet method
Heat a large skillet (preferably NOT the skillet you are going to cook your pizza in) over medium heat and add bacon. Fry until crispy and fat is rendered. Remove crispy bacon with a slotted spoon and place on a paper towel to drain. Remove all but 2 tablespoons of bacon grease from the skillet. Reduce heat to medium-low and add shallot. Cook for 5 minutes until soft, then add garlic, sliced brussels, salt and pepper, stirring well to coat. Cook for 6-8 minutes, tossing occasionally. Remove from heat and set aside.
At this point, place an oven rack directly under your broiler and preheat your broiler to the highest setting. Additionally, place your cast iron skillet on the stovetop burner, turning the heat on high. You want to heat the skillet for 10 minutes. If it begins to smoke a lot, you can reduce the heat a bit. But you want it HOT.
While the skillet is heating, begin placing your toppings on your dough. Remember, the dough MUST be on a well-floured pizza peel (or surface) so you can simply slide the entire thing into the skillet. Add about 2-3 ounces of cheese to your dough, then cover with the brussels sprouts mixture and the bacon. Top with the remaining fontina, provolone and parmesan.
Place a potholder or thick towel on the handle of the skillet (it will be sooo hot). Carefully slide the pizza into the skillet, dough side down. Don't worry if a few toppings or pieces of cheese slice onto the surface — it will be totally fine. After about 30 seconds, turn off the burner, grab the skillet and pop it in the oven, right under the broiler. Broil for 1 minute, the using the potholder, grab the handle and rotate 180 degrees, broiling for only 1 more minute. Remove immediately and place on the stovetop. Let cool slightly for about 5 minutes, then use a large spatula to remove the pizza.
INDULGE!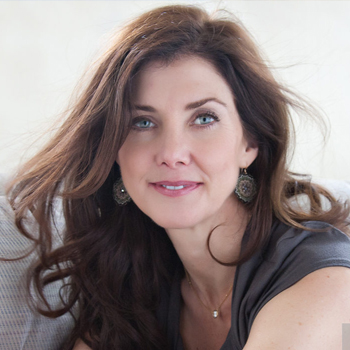 Jean Trebek
Jean is a Professional Religious Science Practitioner, Reiki Master and Sound Healer. She grew up on Long Island, NY, and now lives in Los Angeles with her wonderful husband of 29 years, Alex, and has 2 amazing adult children, Matthew and Emily. Jean enjoys taking long walks, watching movies, and traveling. She is very grateful for her family, Willy the dog, friends and good coffee.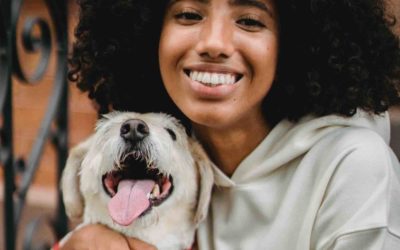 Part 1 of Kathlene McGovern's 2 part series on the best and safest ways to travel with your furry friends!
Dove Rose give us ideas on how to stay curious! Keep it Fresh in the Kitchen, on the Drive and in your Life. New ideas to keep our mind alive!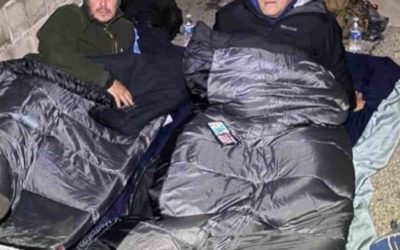 Ken Craft of Hope of the Valley lives unhoused on the streets of the San Fernando Valley for 100 hours and shares the challenges, insights and struggles he faced on this journey.