A Sensational Appetizer or Delicious Side Dish
At a "socially distance" birthday celebration I attended last month, my friend Shanna served these delicious Broccoli Cheddar Bits as an appetizer.
Each guest had 2 of them on our plates when we arrived, along with some hummus, carrot and celery sticks.
I was so taken with these little gems of goodness, that I asked for the recipe to make sure our readers would know of this very easy, delicious and somewhat healthy appetizer. Of course, you can make them bigger and serve with your main entree…the choice is always yours!
Oh, and please use Cheddar cheese, as the sharp bite to this particular cheese makes a big difference to the savory flavor of this starter.
Jean Trebek's Reliable Recipes|insidewink.com
Cheddar Broccoli Bits
INGREDIENTS
1 Large bunch of broccoli florets
2 eggs, lightly beaten
1/2 cup, packed, torn fresh bread (no crust)
1/4 cup grated onion
1/4 cup mayonnaise
1 cup packed, grated sharp cheddar cheese
1 1/2 teaspoons lemon zest
1/2 teaspoon salt
1/4 teaspoon freshly ground pepper
DIRECTIONS:
Thoroughly wash the broccoli florets and place in a steamer.
Place 1 inch of water in a pot with a steamer basket.
Bring to a boil.
Steam the broccoli florets for 5 minutes, until just tender.
Rinse with cold water to stop the cooking.
Finely chop the steamed broccoli florets.
You should have about 2 to 2 1/2 cups.
Make the filling:  Place the beaten eggs and the torn bread (I like to use sour dough bread) in a large bowl.
Mix until the bread is completely moistened.
Add in the grated onion, mayonnaise, cheddar cheese, lemon zest, salt and pepper.
Combine in the chopped (almost minced) broccoli.
Preheat oven to 350 degrees.
Grease the wells of 2 mini muffin pans (1 dozen wells each) with olive oil, so that the bits don't stick.
Spoon in the broccoli mixture in each muffin well, 3/4 full.
Bake at 350 F for 20 minutes, until cooked through and lightly browned on top.
If you don't have mini muffin pans, you may bake the bites freeform.
Just grease a baking sheet and spoon large dollops of the broccoli mixture onto the pan.
Baking time is the same.
This recipe is adopted from Simply Recipes.
With just four ingredients, this Walnut Crusted Goat Cheese with Apples and Honey is so incredibly easy.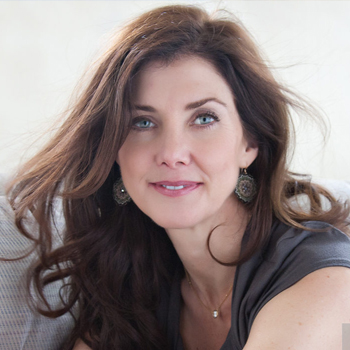 By JEAN TREBEK
Jean is a Professional Religious Science Practitioner, Reiki Master and Sound Healer. She grew up on Long Island, NY, and now lives in Los Angeles. She has two wonderful adult children, Matthew and Emily, with her beloved late husband, Alex.  Jean enjoys taking long walks, watching movies, and traveling. She is very grateful for her family, friends, Luna (the dog) and good coffee.
A heartfelt interview with one of the founders of The Waterbearers – a women-led organization that provides clean water to countries suffering from water vulnerability. Their work is full of kindness, hope and is changing the lives of many!
In her beautiful story, Kate Fuglei takes us to a small Italian town where she discovers a life lesson on enjoyment.
"I Have Been Buried Under Years Of Dust"... are the first words Emily Grodin used to express herself. Emily is on the autism spectrum and for years was unable to fully communicate. Her parents, Valerie and Tom, worked with many therapists and different modalities...