Jean's seasonal sweet, peachy goodbye 🙂
Wait!  Summer's not quite over yet!  While we're at the end of the season, say good-bye to Summer with this yummy peach cobbler recipe.
It's so easy to put together, and who doesn't enjoy a semi-sweet dessert served with ice cream or whipped cream, or both?
You'll need about 8 large ripe peaches for this recipe, simmering the peaches in lemon juice and sugar brings out the juices of the peaches and ensures a delicious cobbler. Enjoy!
Peach Cobbler
Here are the INGREDIENTS you'll need:
Peach Mixture:
5 cups fresh peaches peeled and sliced
3/4 cup granulated sugar
1 Tablespoon lemon juice
Batter:
1 stick unsalted butter
1 1/4 cups all purpose flour
1 1/4 cups granulated sugar
3 teaspoons baking powder
1/4 teaspoon salt
3/4 cup milk
Ground cinnamon
Ground nutmeg
Here are the easy DIRECTIONS:
Peach Mixture:
In a small saucepan add the sliced peaches lemon juice, and ¾ cups of sugar. Place over medium heat for a few minutes, stirring occasionally, just until the sugar has dissolved. Remove from heat and set aside.
Batter:
Preheat oven to 350°F. Place the butter in the pan and place pan in the preheated oven. Once the butter has melted, remove the pan from the oven.
In a medium sized bowl whisk the flour, 1 cup of granulated sugar, baking powder, and salt. Stir in the milk. Stir until just combined, don't over mix. Pour this mixture into the 13×9 inch pan, overtop of the butter. Gently smooth into an even layer.
Spoon the peaches mixture over the batter. Sprinkle the top with ground cinnamon and nutmeg, use as much or as little as you'd like. I use about 1 teaspoons worth.
Bake at 350°F for 35 minutes or until the top is golden brown and baked through.
Serve warm with whipped cream or vanilla ice cream.
Sweet Indulgences!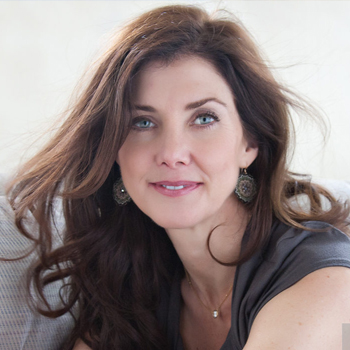 Jean Trebek
Jean is a Professional Religious Science Practitioner, Reiki Master and Sound Healer. She grew up on Long Island, NY, and now lives in Los Angeles with her wonderful husband of 29 years, Alex, and has 2 amazing adult children, Matthew and Emily. Jean enjoys taking long walks, watching movies, and traveling. She is very grateful for her family, Willy the dog, friends and good coffee.
The incomparable Cheryl Farrell shares a unique and creative article that will stretch your understanding of sensuality!
A heartfelt interview with one of the founders of The Waterbearers – a women-led organization that provides clean water to countries suffering from water vulnerability. Their work is full of kindness, hope and is changing the lives of many!
In her beautiful story, Kate Fuglei takes us to a small Italian town where she discovers a life lesson on enjoyment.