Artist Bettina Madini's beautiful painting "VOLCANO"
We meet the most interesting people through this website! We received an email from a reader, Joel Burbach (thank you, Joel), who recommended we consider Bettina Madini as our Artist of the Month.
After looking at her website we said a resounding yes! Her work is ethereal, beautiful and exciting. Bettina has had a very interesting life. Born in Berlin, she says that, "living within the confines of a wall in my home city of Berlin carved in me a drive for freedom and a desire to live life with joy and gusto. I learned to thrive on contrast and marveled at impressionistic and expressionistic art, especially the search for color and light." She grew up to become a contemporary European artist and fashion designer.
We'll let her tell you… Here's Bettina:
"

Will I ever be complete? Not as long as there is color.

"
What started you on this path?
What started me was this indestructible desire to create. I always had it, already as a child, I loved drawing. I was so timid that I didn't even want to go into a store and buy a sandwich! It changed when I started getting acting jobs in family tv series in Germany. I felt more comfortable in front of a tv camera than in crowds. At school, I loved art classes! I didn't fully dive into art right away. I heard so many repetitive messages, from my family and teachers, such as "It's too risky to be artist! Don't do it! Better go work at a bank!" I'm not one of those who grew up in an artsy family. There was no mentorship. In a way, I was my own guide. Nothing could turn off that burning flame in me, and the cautionary comments kindled my curiosity.
I had to first make a million choices to then venture onto the artistic path. I guess these years in the corporate world that I chose were strengthening the muscle of artistic creation and grew that flame into a burning fire where nothing could stop me, no matter what showed up, no matter who said what. And I learned to follow my own inner voice. I literally received the gift of knowing that I am and will always be the only one who knows what is the next step, what is light and joyful.
I took the first step in 1992 Luxembourg, when I joined the Conservatory of Music and, shortly after, the Ecole d'Art Contemporain in Luxembourg. Both schools were a space for me to dip my toes into the water and find out about my creative being. I clearly recall the moment when I was accepted at the Conservatory of Music. It was as if a lid was blowing off and I was set free. The first painting I painted after that opening depicted the bursting of my being out of a dark space, into a spectrum of light. It was the only painting where I ever used the color black.
It took me 11 more years to finally 'jump'. In the midst of a successful career in the Corporate World I chose different. My physical body had given me signs for years, and those had become stronger over time, fed by an urgency to change path and set my inner artist free. In 2003, I left my position, sold all my belongings and came to New York City with a couple of suitcases. I studied with Susan Shatter, Sharon Sprung, Henry Finckelstein and Wolf Kahn at the National Academy of Fine Art and Design in New York City.
Who gave you the most support early on?
It was my grandmother who supported my creativity. My parents bought Disney comics for my sister and I, and my grandmother collected all these drawings that I created from these comics incessantly. My parents sent me to a High School that had a focus on music, and I majored in Fine Art and enjoyed singing in the school choir. It was a really great education, and I'm very grateful.
What does your work aim to say? 
My work is about color and joyful expression. It says 'Enjoy living!' I change frequently and move from abstract to representational, to nature paintings or visionary art. And I work in different media, such as oil, acrylic, watercolor or silk painting. And then, there is my wearable art that I create under my label "Magical Bodies". Not one of them is my favorite, and each one contributes to the others. It is an energy that wants to be brought into the world, that inspires me and sparks an outburst of color and motion or a quiet breath of space. My hope is that it inspires someone else and brings more joy to the world.
Which leads me to another aspect of my work, which is directly connected with the Earth. With my flower and tree paintings, I really desire to awaken more awareness for our beautiful planet and caring for the natural resources. Nature is such a healer, and we need to step into stewardship for the land and creatures, to ensure we create a sustainable future. Nothing in nature is dead, and when we pay attention we can receive so much, even from the tiniest flower or the moss by the tree.
What do you love about Los Angeles (even if you don't live here)?
I love the creative spirit of L.A., this outburst of such a variety of artistic expression, be it music, art, theatre, dance or film.
What do you consider success?
If my art can be an inspiration for someone else, if my paintings generate joy in someone else life, and nudge them to not give up, to keep walking, to see the beauty everywhere, even if it looks dire, but to keep that inner flame burning and nurture it and not ever look back, that is success for me.
What's been a real high-point in your career or life?
When I received a scholarship at the National Academy in NYC. It was actually the first time I had ever won an award on my artistic path. And this blew such a strong air underneath my wings that I promised the universe to never give up and have my own back.
More 'internal' high-points were these moments when I discovered a new medium that sparked my curiosity.
What was the best piece of advice given to you?
My grandpa said to me "Never look back. Always look ahead."
What's your motto or words to live by?
Joy. Happiness. I choose them each day.
"If you can dream it, you can do it." – Johann Wolfgang von Goethe
Artist Bettina Madini, wearing one of her beautiful creations in her line of Wearable Art called "Magical Bodies"
Interested in seeing more of Bettina's  work?
Check out her websites: 
More of insidewink's Artists of Month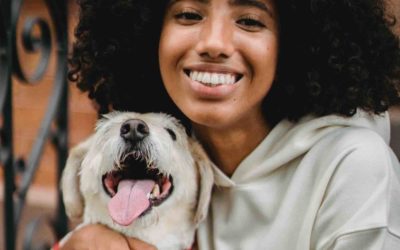 Part 1 of Kathlene McGovern's 2 part series on the best and safest ways to travel with your furry friends!
Dove Rose give us ideas on how to stay curious! Keep it Fresh in the Kitchen, on the Drive and in your Life. New ideas to keep our mind alive!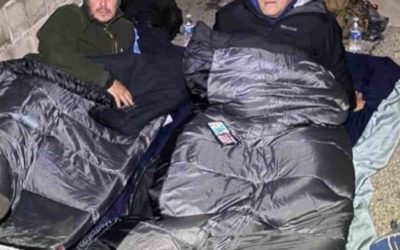 Ken Craft of Hope of the Valley lives unhoused on the streets of the San Fernando Valley for 100 hours and shares the challenges, insights and struggles he faced on this journey.