Sweet, warm, delicious – perfect for an autumn morning!
Not sure if it's my English/Irish heritage, but just the sound of Maple Pecan scones sound absolutely dreamy… and hey, it's sort of an invitation to enjoy breakfast in bed one morning for yourself and/or for your loved one (hopefully ;-).
These perfectly moist yet delicately flaky scones are a so easy to make. You can also make them the night before and pop them into a heated oven in the morning, followed by the glaze.  It's simple little pleasures like these, that make morning-time extra special
Maple Pecan Scones
Here are the INGREDIENTS you'll need:
The Scones
3/4 Cup Heavy Cream
4 Tbsp Maple Syrup
1/2 Tsp Vanilla
2 Cups Flour
1 1/2 Tbsp Brown Sugar
1 Tbsp Baking Powder
1/4 Tsp Salt
3/4 Cup Pecans(toasted and chopped)
6 Tbsp Butter (cold and diced into small pieces)
The Glaze
1/2 Powdered Sugar
3 Tbsp Maple Syrup
Here are the easy DIRECTIONS:
Preheat oven to 375 degrees.  Line rimmed baking sheet with parchment paper.
In a small bowl, whisk together cream, vanilla and 4 Tbsp maple syrup.  Set aside.
In a food processor, pulse the flour baking powder, sugar and salt together until incorporated.
Add diced butter, pulse again until a course meal forms.  About 10-12 pulses.
Transfer the flour mixture into a large bowl and add in pecans, and blend together.
Pour in cream and mix until sticky dough forms.
On a floured surface, knead the dough a few times until a ball forms, mold into round disk so that you can cut the disk into 6 or 8 wedges, depending on how large you want your scones to be. 
Place wedges onto prepared sheet and bake for 20 minutes, or until golden brown.
Transfer scones to wire rack to cool completely.
While scones are cooling, whisk together the powdered sugar and 3 Tbsp maple syrup for glaze.
Drizzle glaze onto scones and allow to dry before serving.  About 10 minutes.
What a great morning!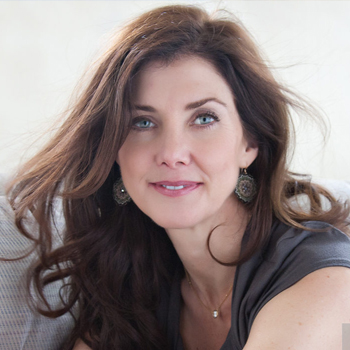 Jean Trebek
Jean is a Professional Religious Science Practitioner, Reiki Master and Sound Healer. She grew up on Long Island, NY, and now lives in Los Angeles with her wonderful husband of 29 years, Alex, and has 2 amazing adult children, Matthew and Emily. Jean enjoys taking long walks, watching movies, and traveling. She is very grateful for her family, Willy the dog, friends and good coffee.
The incomparable Cheryl Farrell shares a unique and creative article that will stretch your understanding of sensuality!
A heartfelt interview with one of the founders of The Waterbearers – a women-led organization that provides clean water to countries suffering from water vulnerability. Their work is full of kindness, hope and is changing the lives of many!
In her beautiful story, Kate Fuglei takes us to a small Italian town where she discovers a life lesson on enjoyment.